Our search for the best coffee ice cream recipe was arduous, especially all the sampling, but we persevered. We landed on a version of Philadelphia-style ice cream which skips the eggs and custard cooking of traditional ice cream. This simpler iteration has just five ingredients and we brew the coffee French-press-style which gives it a rich, intense coffee flavor. Plus, it's quick and simple to make so there's no reason (well, no good reason) not to make it every night. We call it French press because that's the easiest way to strain out the grounds, but a fine mesh sieve works as well.
Warm cream, milk and sugar over medium heat dissolving the sugar and heat until hot and steaming but not boiling.
Remove from heat and add coffee stirring to make sure all of the grounds are wetted. Let steep for three minutes and transfer to the french press and press the plunger. If you don't have a French press you can strain the mixture with a fine sieve.
Cool the mixture overnight and then make in your ice-cream maker per manufacturer's instructions.
3 cups heavy cream
1 cup milk
¾ cup light brown sugar
¾ cup (60 g) coarse (french press) ground coffee
1 pinch of salt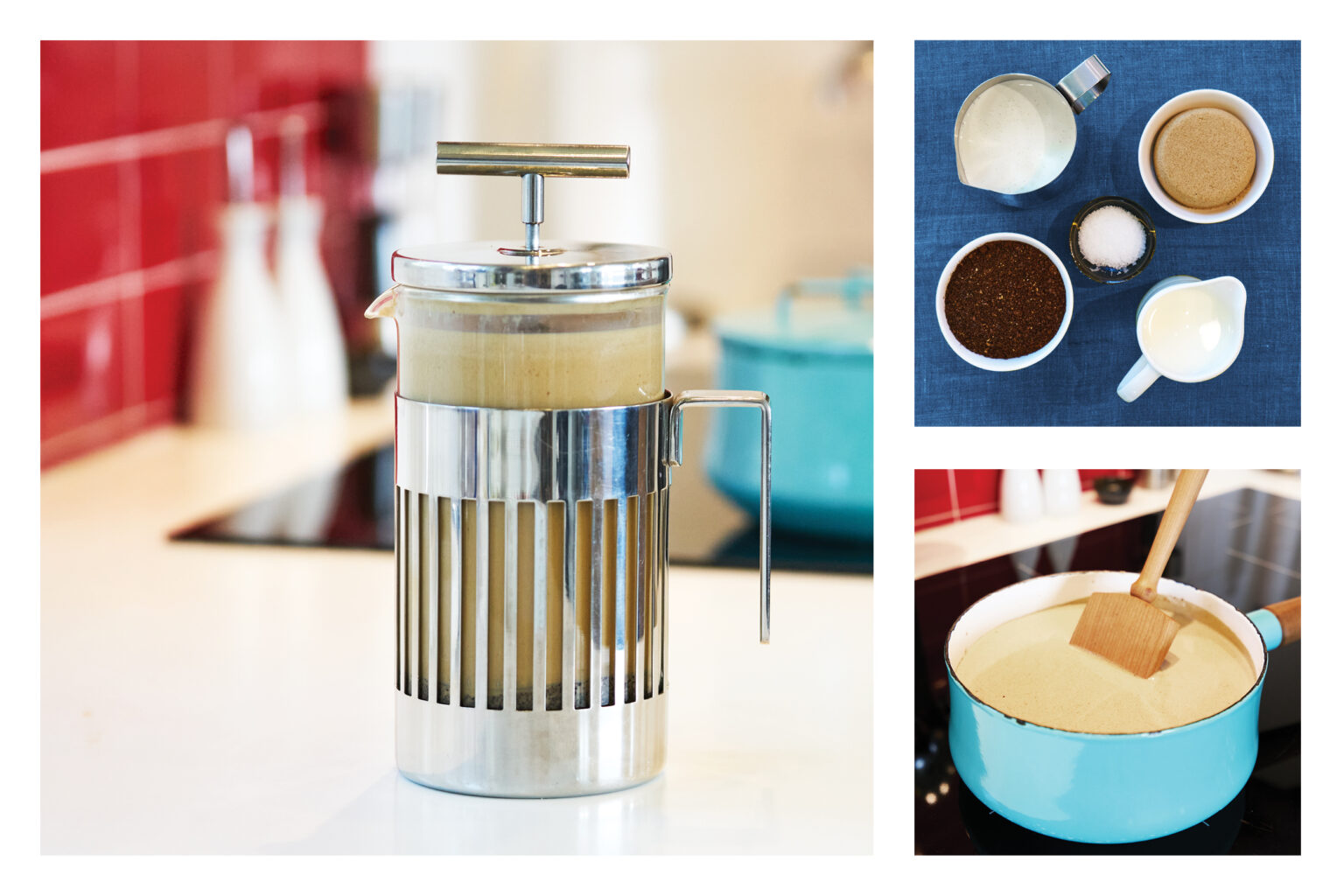 Pro tips:
If you let out a long, sad sigh at "cool overnight," we're here for you. For a fast ice cream fix, cool the mixture in a metal bowl set in an ice bath for five to ten minutes stirring occasionally. Transfer it to the freezer stirring with a whisk every 20 minutes for about an hour. It will start to freeze on the sides, scrape it down and whisk into the rest of the liquid. After two or three scrape-downs, it's ready for the ice cream maker. Follow manufacturer instructions. It will be ready to eat soft-server style right out of the ice cream maker. It will be ready to scoop in a few hours.
No ice cream maker? You can follow the above instructions for faster ice cream and simply continue to freeze, whisk, freeze, process for several hours until it has the consistency of soft serve. Then just let it freeze for good. This will make for a less smooth ice cream, but hey it's still ice cream.
Temper the ice cream. Without the eggs and cooking of traditional ice cream this version may be denser and firmer than what you're used to. If you can wait a few minutes for it to just start to soften it will scoop and serve better.
Variations:
Mocha: Dissolve ¼ cup of powdered cocoa in the warm milk before adding the coffee to brew. Java Chip: Fold in ½ cup chocolate chips after the ice cream comes out of the maker with a soft serve consistency. You'll want to do this quickly so that it doesn't melt. Cappuccino: Add 1 teaspoon cinnamon to the warm milk before adding the coffee. Middle Eastern: Add ½ teaspoon cinnamon and five crushed cardamom pods to the warm milk.