If you live in Colorado, you know Palisade Peaches and likely hunt them down at farmers' markets and roadside farm stands. These beauties are from the local farm stand run by our friends at Rocky Mountain Garlic. And they taste as gorgeous as they look.
The town of Palisade is on the western slope of Colorado, just east of Grand Junction. That might seem like an unlikely place to grow peaches but the region's blazing hot summer days and cool nights combined with nutrient-laden soil is a near perfect combination. The other key ingredient for peaches (or nearly anything) is, of course, water. Palisade was originally farmed by settlers at the end of the 19th century (after the Ute were forcibly removed) who were able to grow grains and some vegetables. But their fruit trees could not handle the heat with such intermittent rain. John Harlow, one of the first farmers to the region, worked hard to build irrigation canals diverting water from the Colorado River. Once the water started flowing, the fruit trees and vines started to take off…especially peaches.
In the late 1800s, 'Peach Days' was how Palisade celebrated their good fortune. That festival lives on now as the Palisade Peach Festival, with live music (the peach jam…get it?), running races, a car show and peach cuisine of all sorts. And if you like to eat your entire annual peach quota all at once, there's also a peach eating contest. Palisade is also Colorado's answer to Napa Valley with numerous wineries and farm-to-table bed and breakfasts. If you like your weather hot and your food fresh, you'd be hard-pressed to beat a visit to Palisade in late summer. 
At the Rocky Mountain Garlic farm stand at the Salida farmers' markets, we get the same tasty peaches, with weather that's considerably cooler. A fresh peach on it's own unadorned is about as good as it gets. A peach pie? Sublime. We've decided to give our tried and true berry muffins a summer twist of Palisade, and we must say, they're not too shabby. Give them a try (we recommend warm from the oven with a piping cup of coffee) and let us know what you think.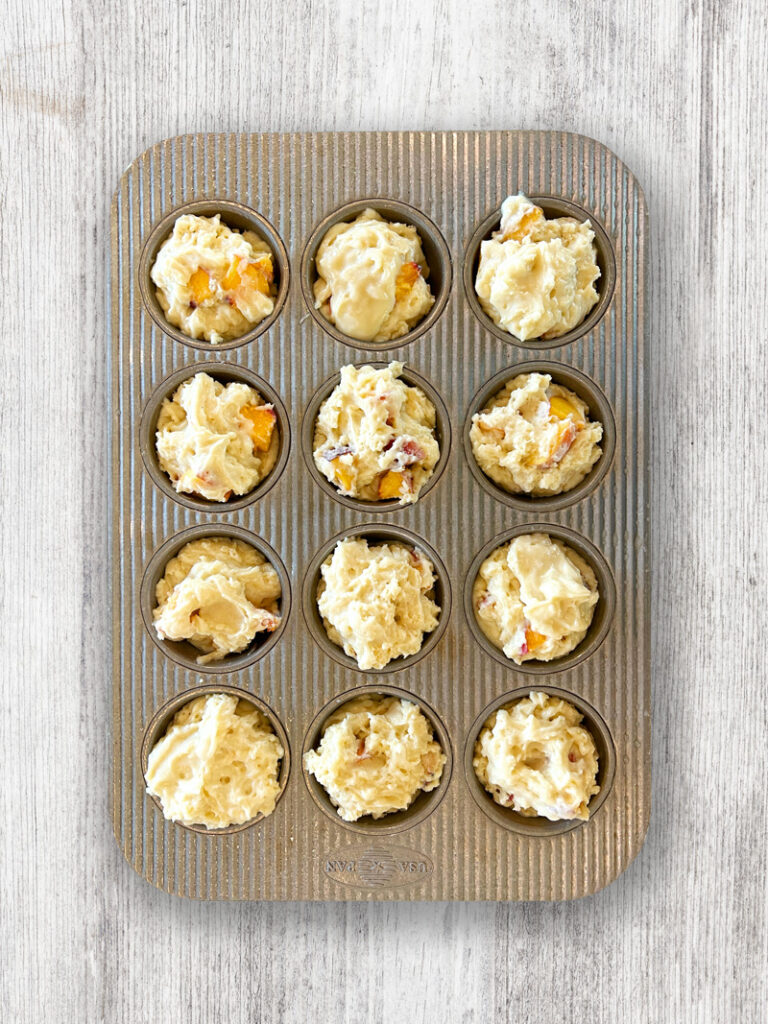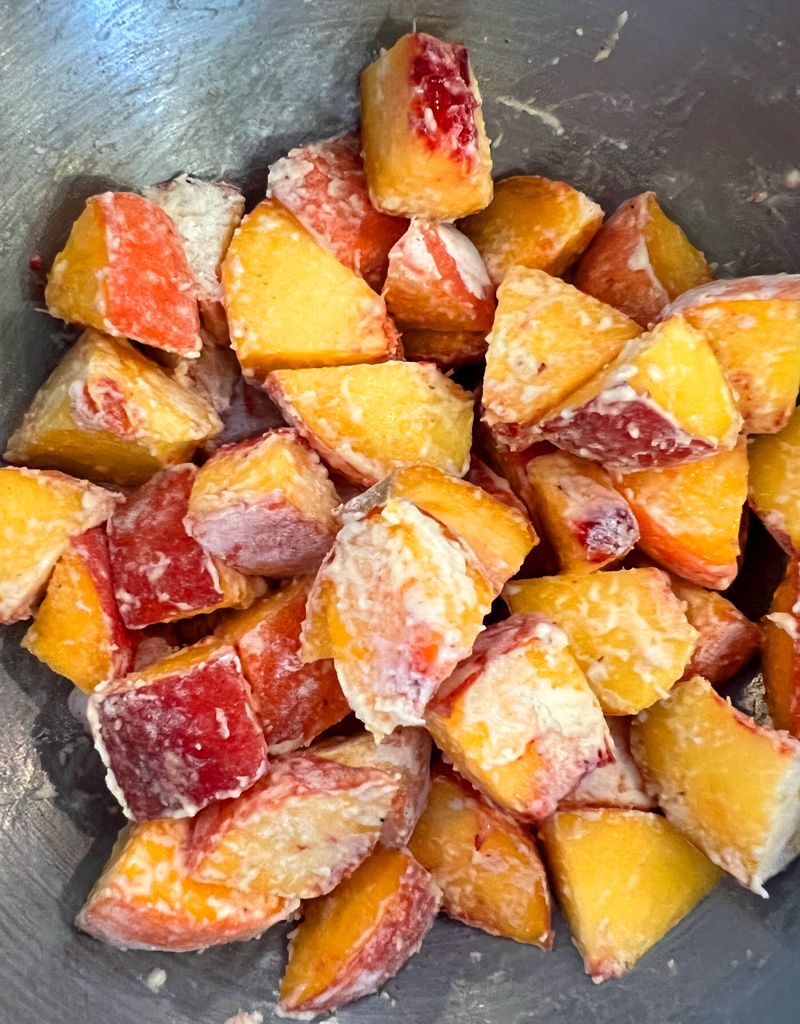 PEACH MUFFINS
The yogurt and oil in this recipe make it fairly foolproof and help to keep the muffins tender, not too heavy, with a nice crispy top. We usually go for strawberries or blueberries, but in peach season we can't really pass up an excuse to get more peaches. This recipe is altitude ready like most of our customers, but if you're making them lower down go for 2 cups of flour with an extra teaspoon of baking powder.
— INGREDIENTS —
2 ¼ cups flour
1 tsp. baking soda
2 tsp. baking powder
½ tsp. salt
1 cup sugar
½ cup vegetable oil
1 egg
1 cup yogurt
1 ½ cups fresh peaches cut to ½ inch cubes
Vegetable spray for muffin tins
— DIRECTIONS —
Preheat oven to 380 degrees F.
In a large bowl sift together the flour, baking soda, baking powder, and salt and set aside.
In another large bowl, whisk together the sugar, oil, egg and yogurt. Take 1 tablespoon of the dry ingredients and toss the fruit in it. (Sounds odd, but it helps the peaches retain their moisture.) Add the wet ingredients to the dry ingredients. Stir mixture about ten times making sure to get all the way to the bottom of the bowl. Add the peaches and stir a few more times — just enough to be sure it's all incorporated but no more or it will start to activate the gluten and you'll have bricks instead of muffins. Generously spray a muffin tin and divide evenly.
Place into the oven and bump up the temperature to 400 degrees. Bake for 20 to 25 minutes, rotating pan halfway through. Let them cool for a minute or two in the pan, then turn them out onto a cooling rack.